Tour of huts at the foot of Mount Cornicolo
just 24 minutes from Villa Orso Grigio
This offer is still
ACTIVE
Hurry!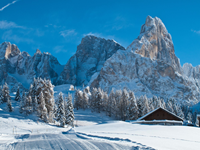 Itinerary: Tour of the huts at the foot of Mount Cornicolo
Level: average
Season: winter
Starting point: parking on the road 88 on Val d'Ultimo way
Altitude gap: 200 meters
Duration:
The itinerary can be done with snow rackets or with alpine skis. You can even use a good pair of boots if the track is in good conditions. In case of avalanches or strong wind on high altitude, it's not risky if you stay in the protected area.
The starting point is on about 1700 meters and you can leave the car in a big parking (on the road 88 for the Val d'Ultimo, just before the gallery coming from the Val di Non). Here we will take a path on the right that it will bring us after about 50 minutes, through a magnificent forest of huge red firs arriving to Lauregno hut (Laurein Alm), a panoramic terrace. From here, we can take another trail (114 and 157) and reach Malga Castrin in 45 minutes. We will go through woods with red firs, larches, thousand year old larches just before arriving to the hut. From here, if you are too tired, you can reach the starting point, (the parking) in 20 minutes. If the snow is not too high, it's better to follow the track number 133 which will lend you on "Malghetto di Cloz" or even named Malga Parol. The top of this group of mountains and in particular the top of mount Cornicolo is named by local peope "la vecla", which means the old lady. From Malghetto we will go down to malga Cloz, and if you like, following a small track, you can arrive to the hut of Revò. From here, in 15 minutes, you can return to the parking on a confortable road.
This track is quite easy, you can use boots and mountain equipment because in the shadow of the wood the temperature can be cold.
Even if the track takes a reasonable time, the difference in level is 200 meters.
Stop the cheapest fare for your holidays
Contact us directly: